Whether you're planning something fancy for you and your immediate family, or are setting up a Zoom dinner date, it's always a good idea to brush up on your table setting skills. Once you master these basic tips, you'll be ready to decorate for any season!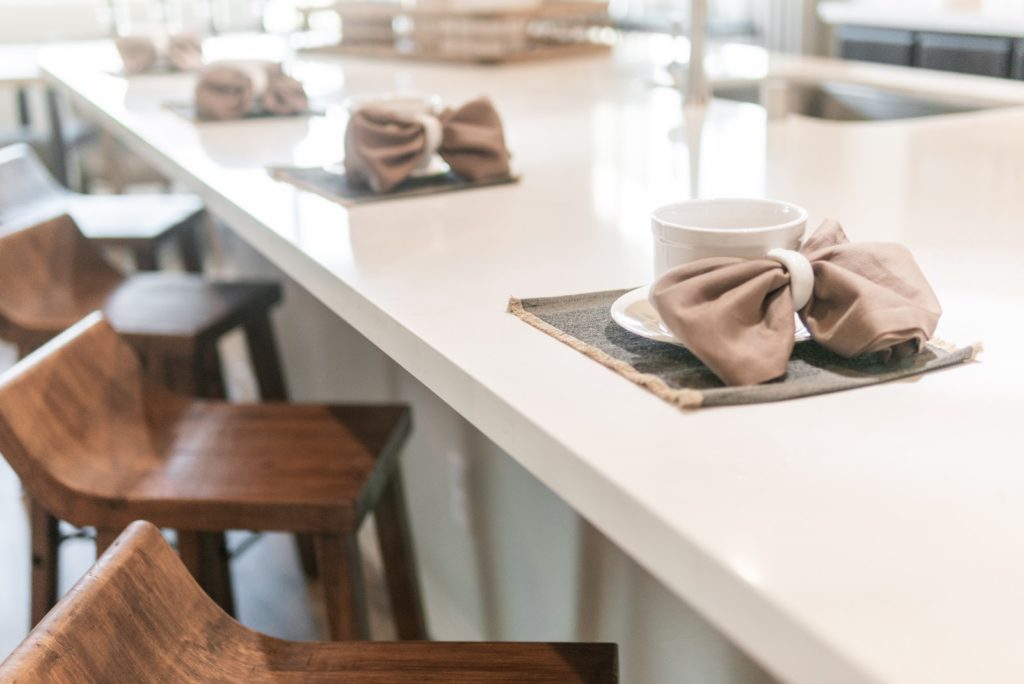 Storage is Key
We'll let you in on a secret: the key to having a spiffy table setup is having plenty of space to store your decor. A tasteful cabinet, console, or credenza acts as the perfect accent to your dining area and gives you space to display photos and knick-knacks. The idea is to limit the visual clutter and create a calming atmosphere to dine in.
Choose Your Lighting Carefully
Our next tip revolves around lighting. Often-overlooked, lighting is one of the most important ingredients in defining the feeling of a space.
Try to diffuse, indirect light. Warmth is also key: no one wants to linger over dinner lit by a buzzing fluorescent light. Instead, a low glow will make your skin radiant and create a super-cozy feel.
Try candles (tea candles in small juice glasses are a great easy option) or bring a table lamp into the room, and turn off your overhead lights.
Bring in Texture
A great restaurant engages all your senses, so why can't your dining room do the same? Layering a tablecloth, placemats, or a runner creates visual intrigue and gives you something to look at besides your plate. You could also consider picking up a few cloth napkins to add to your table settings—they're a great, green option and can create such an elevated feel.
If you're more interested in an eclectic vibe than super put-together, try mixing and matching your glassware and serving dishes. Don't be concerned if everything doesn't match!
Don't Forget the Greenery
Everyone loves a fresh bouquet — and if you have some, great! You're already halfway there. But fresh greenery isn't the only greenery allowed on your table. You could cut a frond from a houseplant or tree and plop in it a vase for the same fresh effect. Just be careful not to get caught snipping choice blooms from your neighbor's prize hydrangea bushes (we recommend asking first). Even a single sprig can look sculptural and interesting when you place it in a vase, jar, or even an empty wine bottle.
One of our favorite decor items is a simple branch — and with winter right now, they're so easy to find! Remember to think about proportions as you place your greenery: branches create height and drama, or you can lay them across a table to tie the place together. Just try not to block the sightlines of any of your diners, and voila! Your table is ready to go.