It happens to the best of us—that large counter space was everything you dreamed of when you moved in, but it's now been covered in stacks of old documents or recipes that you've been meaning to try. It's hard to bake that fancy cake with no counter space! The infamous kitchen "drop spot" is a vicious cycle that we're here to help you break free from. Let's get to organizing!
Your first step needs to be figuring out where exactly your clutter comes from. Take a look and examine what you have: unopened mail, catalogs, rubber bands, pens, receipts, school papers? Make a mental note of exactly what sort of clutter you tend to accumulate in this area, and keep that in mind as you read through the solutions that follow.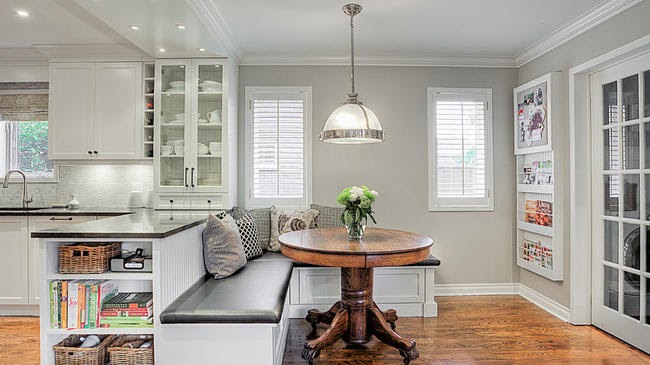 Give those magazines a home. Do you find yourself dropping magazines and print-outs from food blogs to try? Try keeping them tidy in a basket on the counter, or maybe try this wall-mount idea above. Then they'll act as decor when you're not using them, and you can grab one to skim while the soup simmers. Plus, stylish baskets are always a great idea for keeping messes contained and out-of-sight.
Repurpose pretty bowls. If you've got it, flaunt it! No need to go buy new tools for organizing when you have useful items not in use around the house. Set a few small, pretty bowls on the counter to use for keys, pocket change and any other tidbits that tend to accumulate on your counter. Choose a time every week or month to clean out the bowls.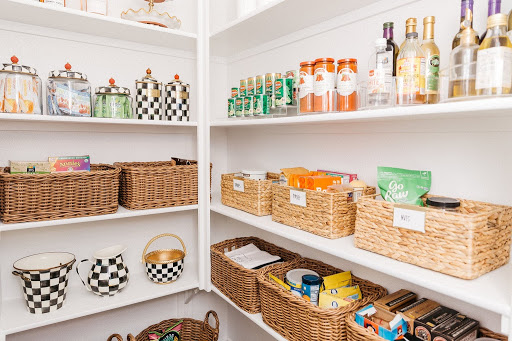 To keep it off your counter, give it a home in the pantry. With a spacious L-shaped pantry like the ones available at Plumas Ranch, you can maximize their efficiency with stellar organization! Set aside a weekend to take everything out and figure out the best flow for your space. Buy matching baskets and labels to clearly mark what foods go where. Taking stock of exactly how much you have on hand at a glance makes grocery shopping easier, as well.
Maintain a habit that works for you. All these changes sound good in theory, but putting them into practice can be no easy feat. Oftentimes when we commit to a new habit, our initial reaction is to gravitate back towards those old habits that weren't serving us. Try this to keep things looking their best: every morning while making your coffee or tea, take a moment to scoop up any clutter that has accumulated on the kitchen counter and put items back where they belong.
Keep this up for a few weeks, and pretty soon you'll have a new, clutter-busting habit that will keep your counter clear for good. Happy organizing!