Let's be real: you can find us in two places this summer: parked in front of the AC or hanging out on the patio. Whether we're kicking our feet up with a glass of wine in hand or sharing a meal with a friend, the patio is where it all happens. Here are three tips for making this space as enjoyable and beautiful as possible.
Map Out the Space.
First, assess your patio space. Consider the shape of the space you're working with and the types of furniture you can utilize. How will you be using the space? Will you need a table to enjoy weekend brunch? Will you have pets sharing the space with you? Is your space shaded or do you need to invest in an umbrella? Do some research and know your options.
Commit to a Color Scheme
What colors will compliment your home? Are you looking for patio decor to provide a pop of color or will you keep with a neutral color palette? Regardless of what you choose, don't forget to add in some blooms to make the space feel vibrant and fresh. And on that note…
Don't forget the plants
We mentioned blooms and we mean blooms! Don't skimp on these. Putting out potted plants and greenery can make a space feel more inviting. Aim for a variety while keeping in mind the light and water needs of each plant. Place them strategically to give visual interest.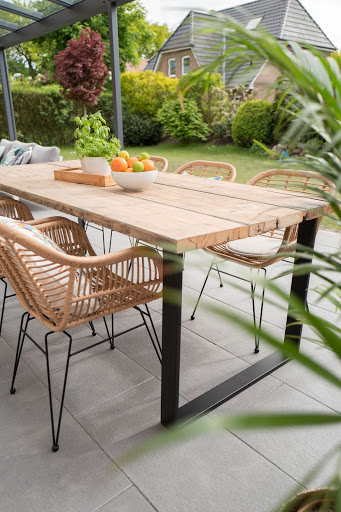 How will you be enjoying your patio space this summer? Tell us in the comments below.